-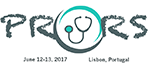 By joining this summit of Curtis & Wyss Group, you will discuss and learn about how and experience of the noted high-level experts, who will represent companies such as GSK, Ipsen, Bayer, Roche, Alexion, Astellas, Novo Nordisk, Teva, Grunenthal, etc. You will hear about developing the best recruitment and retention strategy, about the new regulation and impact on clinical trials, digitalization and e-recruitment, the site staff engagement, motivation of the patients, cooperation with the CRO and many other topics related to the patient recruitment and retention. This Summit will help you understand how the top pharmaceutical companies deal with their problems and challenges in the world of patient recruitment.
Therefore, we are pleased to invite you to the "Patient Recruitment and Retention Summit" scheduled on June 12 – 13, 2017 in Lisbon, Portugal. This premier B2B event will enable the participants to learn about the latest developments of. It is an honor and privilege to invite you to participate in this ;
We look forward to welcoming you at the Summit in Lisbon upcoming June!
Key Practical Learning Points of the Summit:
What role does clinical research have on patients?
How to keep the site staff motivated and engaged?
How to make trials more valuable for patients?
New regulations and the impact on clinical trials
Developing a robust clinical trial recruitment and retention strategy
Cooperation with the CROs
Enrolment challenges in orphan clinical studies
Digitalization and e-recruitment
What Makes a Good Feasibility Process?
Who should attend?
Chief Executives, Executive Directors, Vice Presidents, Heads, Team Leaders and Managers of:
Clinical program Management
Clinical Operations
Clinical Research
Recruitment and Retention
Clinical Research and Development Operations
Study Management
Clinical Trials
Clinical Trial Design
Clinical Program
Clinical Project Management
From Industries
Pharmaceuticals
Medical Practice
Biotechnology
Medical Devices
Chemical & Related Manufacturing
Management
Hospitals and Healthcare
Contact john Willson for Latest Agenda and Registration form at
Return to overview