-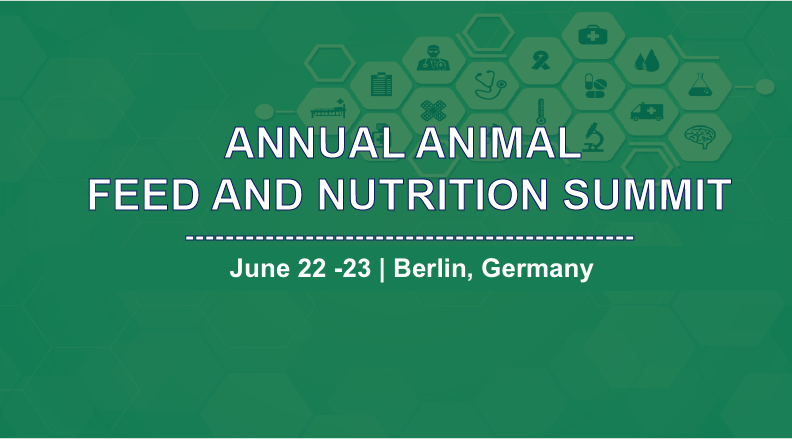 GET ONE TICKET and attend TWO CONFERENCES
Annual Animal Feed and Nutrition Summit & Animal Welfare Innovation Forum
For Latest Agenda and Registration Form contact John Willson
By joining this conference of Curtis & Wyss Group, you will discuss and learn about the up-to-the-minute issues of Animal Feed and Nutrition. This premier B2B event is designed to discuss industry leading research and provide information to feed industry professionals and nutritional consultants. It offers suppliers an invaluable opportunity to display their innovation and helps those in the feed and pet food industries stay up-to-date on current developments. This highly focused event is an invaluable opportunity to have many top decision-makers in one ;
Therefore, we are pleased to invite you to the "Annual Animal Feed and Nutrition Summit" scheduled on June 22 – 23, 2017 in Berlin, Germany.
We look forward to welcoming you at the Summit in Berlin upcoming June!
Key Practical Learning Points of the Summit:
Nutrition for Skeletal Muscle Health
New Perspectives of Evaluating Nutritional Values of Microalgae
New technologies for animal safety
Implications between nutrition and the immune system
Chromium Supplementation and Immune Function in Dairy Cattle
The new approach on medicated feed
The Impact of Chromium Supplementation on Dairy Cattle Performance
Cost-effective technology solutions
Innovation in feed additives
Interactions Between the Feed and Feeding Environment
Protein strategy in animal feed
Serotonin and the Physiology of Calcium Homeostasis During the Transition Period
Challenges for feed resources
New Milk Analysis Technologies to Improve Dairy Cattle Performance
Characterization of Non-Nutritive Factors of Feeds for Model Development
Who should attend this summit?
VPs, directors, superintendents, scientists, consultants and managers of:
Product safety
Food & feed risk assessment
Feed industry
Feed production and retail
Production and import of feed additives
Premixtures, feed materials, compound feed
Medicated feed
Pet food industry
Producers of veterinary medical products
Laboratories
Research institutes
Production of feed intended for specific nutritional purposes
Research & development
Marketing & distribution
Quality assurance & control
Return to overview